Aluminum Lean-To Greenhouses



Lean-to greenhouses, also known as attached greenhouses, are very popular because of their convenience. Want to sit in your greenhouse in the winter and enjoy the sun? No need to travel through the snow and across your yard. Looking for fresh herbs or veggies for dinner? Just walk out of the door to your home and into your attached greenhouse.
Features of Attached Greenhouse Kits

With an attached greenhouse, your water and heat sources are closer, so there is usually no need to dig trenches to bring these utilities out to your backyard greenhouse. Lean-To Greenhouse kits may also help with heating if the greenhouse is situated in the proper location. If you are  in a sunny location, the wall of your home may add needed heat to your greenhouse.
There are however, drawbacks to attached greenhouses. You must be aware of your attaching height at the back wall. If you have a ranch style or one story home, this may be tricky. We do, however, have the ability to do a custom lower slope for these types of homes with our Acadian Lean-To or our Evangeline Lean-To. Just be sure to check this when starting to look for attached greenhouse kits. Our kits are available in all glass, all multiwall polycarbonate, or a combination of the two. Check out our selection below!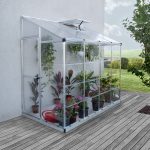 This lean to greenhouse is perfect for areas with limited space. At the compact 4′ x 8′ size it still leaves you room to overwinter plants, start seedlings or grow a few herbs and vegetables.